STILL LIFE, ABSTRACTWALL-ART
PAINTING PROCESS
The Gilded Lady
A large painting created in a time of hardship. The Gilded lady is a piece telling a story of beauty and its burdens or sacrifices. The piece was painted in intervals over a period of two years. It is a combination of acrylic paints, studded jewels and glitter. Its glamour and intricate details demand the attention of the viewer, bewitching them to keep looking.

In these photographs I documented the evolution of the piece as I worked on it throughout the nights in my home studio.
The piece was first displayed in April 2015 at Beaux Arts Brampton for a group show alongside three other pieces ('Je suis calme' 'a sad one' 'glam still life').
Acrylic & Jewels on Stretched Canvas
36.5" x 27.5"
CONTRASTING COLOUR SERIES
The 'contrasting colour series' is an ongoing side-series that sort of sprung up unintentionally. The inspiration came from an old self-portrait I made and gifted to a friend, a couple of bright coloured paintings I made a long time ago, which was in turn inspired by my first painting in acrylic, which i called 'hot and cold'.

The 'series' didn't really resume until fairly recently as I went back to exploring the fight between bright opposing colours.
 
Contrast + Blue Period
Contrast
When I finally resumed my contrast paintings, I began with a painting which started off as a brightly coloured canvas with a thin chevron-like pattern. As I kept painting the piece, a turquoise coloured woman emerged from the middle, and from her a large blue-leaved tree.

I felt at the time, as I painted this, that the contrast of the colours and the abstract straight lines as well as shapes accurately reflected the feelings that were roiling within me. The bright background with the structured lines seem to represent a joy in order, while the blue woman and the tree reflected a somber calmness that came with everything else.

After this one was completed I toyed with the idea of a 'blue period' and beginning to paint more works with blues as a focus.
This painting is the second (or fourth if you count the first two) in the contrasting 'series'. This painting was created as a gift for a dear friend of mine. I decided, quite organically to paint this in a similar bright colour scheme as 'contrast'. With this one the subject is the famous burlesque dancer, Miss Dita Von Teese, a favourite of my friend, painted in a bright blue cyan and magenta.

I really wanted to keep with having the blue as the focus, so Dita was painted blue, and because I painted her in that bright cyan I felt i had to have a magenta for the background. I fought with the idea of having some purples in there, but in the end I fell in love with the way the bright whites highlighted the figure and set her apart from the background, so I made sure the feathers were a perfect crisp titanium white with black outlines. I also took a page from my 'gilded lady' painting and added a lot of detail in the corset in keeping with the intricate details of a burlesque costume with added accents of pearlescent blues whites and silver for the added bling.

I was very pleased with the end result.
The series is ongoing, as I said, it springs up organically. Currently it comes out in between my other projects.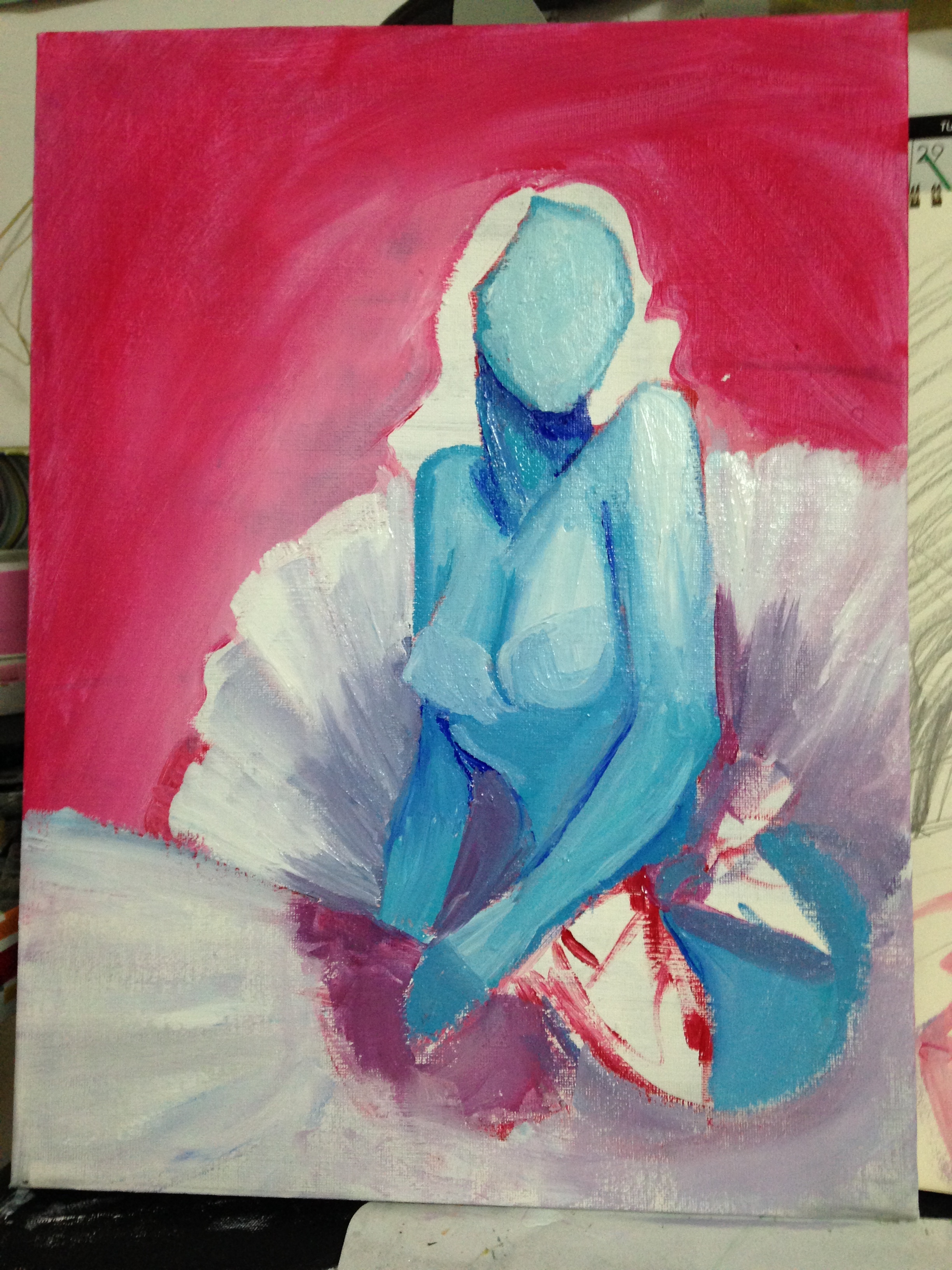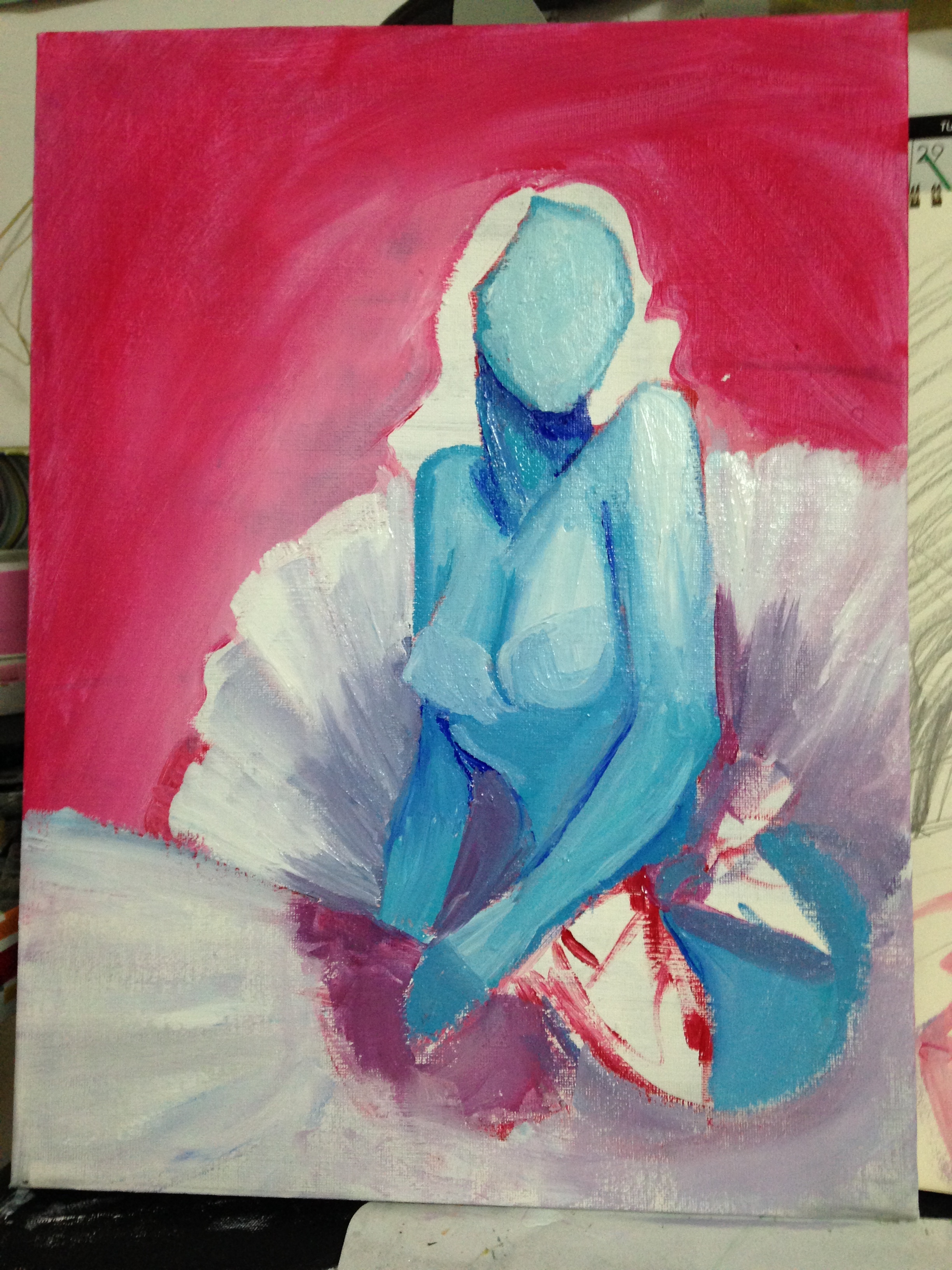 WORK IN PROGRESS:
Los Bailarines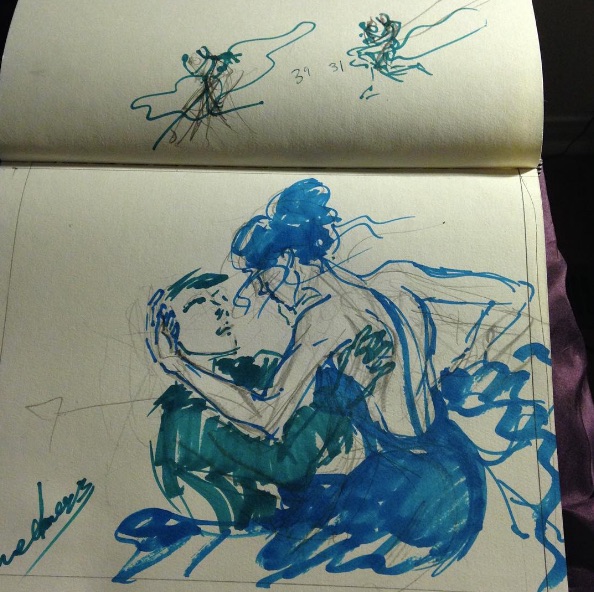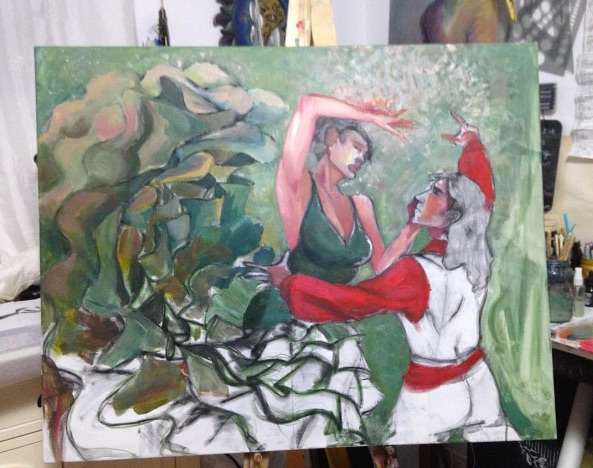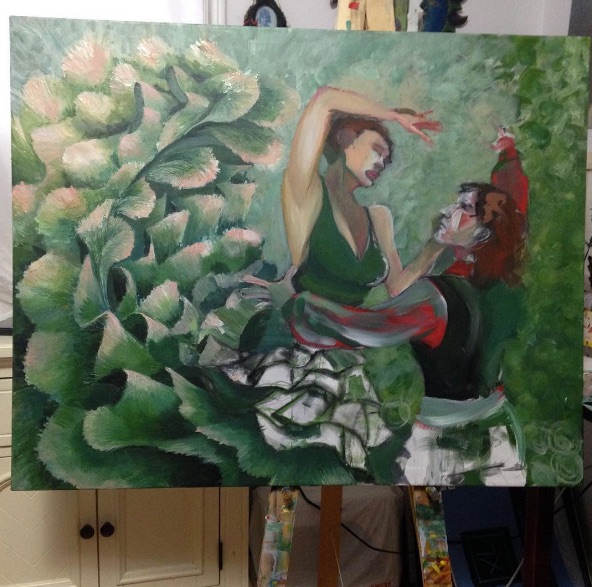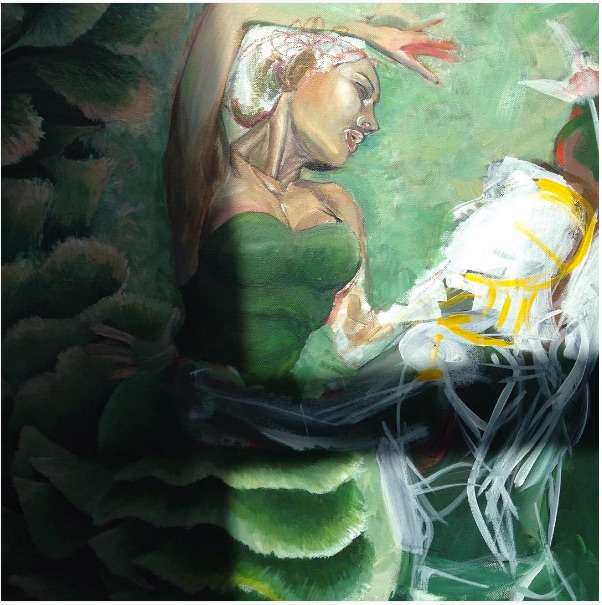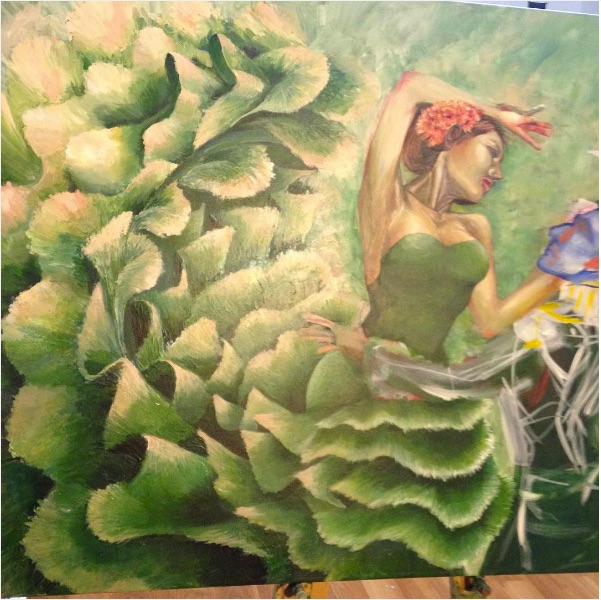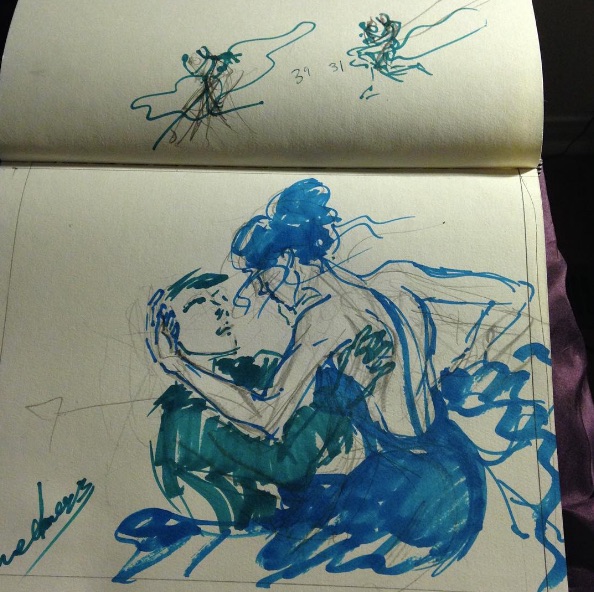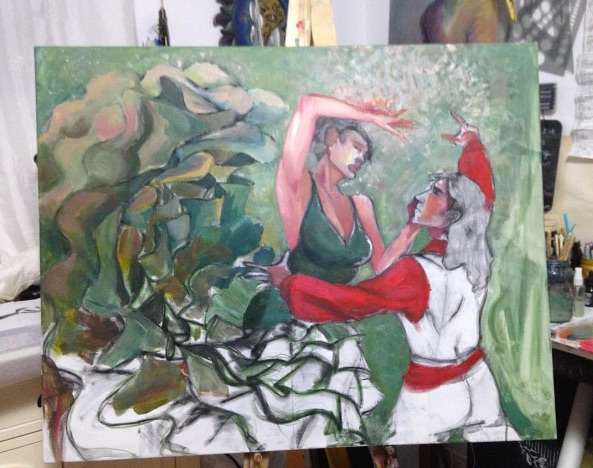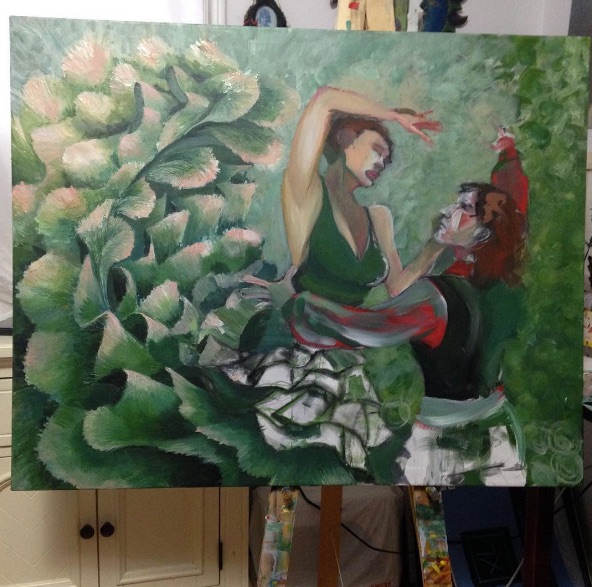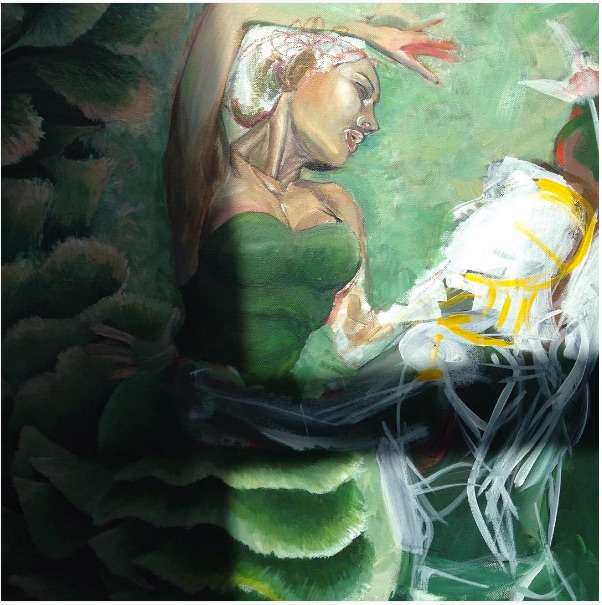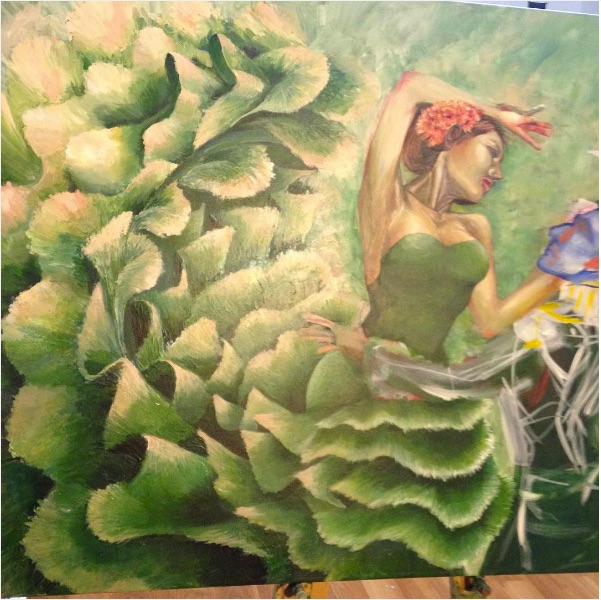 My early childhood was one of a gypsy-like existence. Born to two, much too young, immigrant parents, there were few affordable entertainments for them and their child. When I was just a little baby they went to a free event hosted by a local church where others of the latino community gathered for an afternoon of dancing, music, food and other such entertainments.

I remember very little of the wide white room filled with the noise of many people. What stayed with me to this day, rather, was that suddenly the noise of the people was overpowered by the sound of a loud rhythmic clacking. I have the distinct memory of turning my head and body in my mother's arms to get a good look of where the clacking was coming from. That is where my very first memory begins...
I look and I see a group of thin hands thrown up in the air twisting and turning like snakes as they move the shell-like instruments to make the click-clack-clacking I've been looking for. Then, there's a loud stomp and finally I take my attention away from the twisting, clacking hands, moving my eyes downward, seeking the feet of the people (who i've subconsciously registered to be women) dancing when I'm surprised once again by another loud stomp and SWISH! A bright red fabric whirls in a huge arc like a huge twirling flower and finally my eyes register what I'm seeing, three women: one in white and red, one in white with green polka dots and one in white with yellow polka dots, and all three of them are stomping and whirling along with the clicking of their shells (I later learned - much, much later - that they are called castanets).
It was the most magical thing I'd ever seen. I didn't understand it at the time, why I was so enraptured by the dancers, I just knew I was. It was so long ago and at such a strange time for my small brain to capture such details that now the memory is but a strong blur of colours, soft sensations and far away sounds worn away by time... BUT it is my first memory and a truly beautiful one, my most loved and most cherished. I am sure of one thing. I will never forget the feeling I got when I looked at those dancing swirls of fabric and twisting limbs. I get it when I look at them today, and I get it when I paint.
This experience prompted me to start this series. I am exploring the movement of dancers creating the sensations through the use of texture and repetition in acrylic paints. The painting is mostly complete and the first of the series. The work has undergone a large change from beginning to end and continues to evolve in small details. I won't rest until I've got it just right..